Answering your questions
How does Proptee work?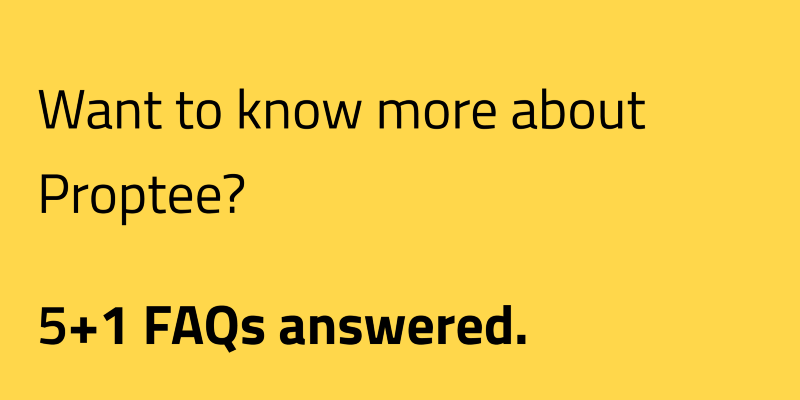 How does Proptee work?
On the Proptee app, you can make unlimited trades in shares of rental properties located in the UK. The app gives you access from luxury to purpose-built accommodations that we aim to rent out constantly.
Please note, Proptee is not a crowdfunding platform. When sellers decide to sell a property on Proptee, they can decide how much equity they wish to put up for sale — works the same way as a private company doing an IPO on LSE. An IPO on Proptee is valued at the current market value of the real estate.
How does funding my account work?
Adding money to your Proptee account is simple. All you need is a debit/credit card or Apple Pay to fund your account. Every transaction is instantaneous, so you will have a chance to trade as soon as you fund your account.
Withdrawing money or cashing out is the same simple process. We'll validate your request instantaneously and transfer the cash to your linked bank account.
Who can have a Proptee account?
To open an account with Proptee, you'll need to meet the following requirements:
You're 18 years or older
Be a UK resident
We require a valid National Insurance Number
What products will be available at launch?
At launch, you'll be able to:
Invest commission-free in houses or flats in the UK
Trade shares in properties
Earn a monthly income from the rent
When can I open an account?
You'll be able to open an account, once you're off the waitlist. We will send you an email when this happens with a link to download our app. The higher your position on the list, the sooner you'll get access to our properties.
How can I refer a friend?
Once you sign up to the waitlist with your email, we generate a personal link for you. Please invite your friends by copying this link or just use the quick share buttons.
Still have questions?
Contact us at [email protected]