The Proptee Public Product Roadmap
At Proptee, we believe that as a company, we do better if we share everything with our community and gather feedback during every phase of…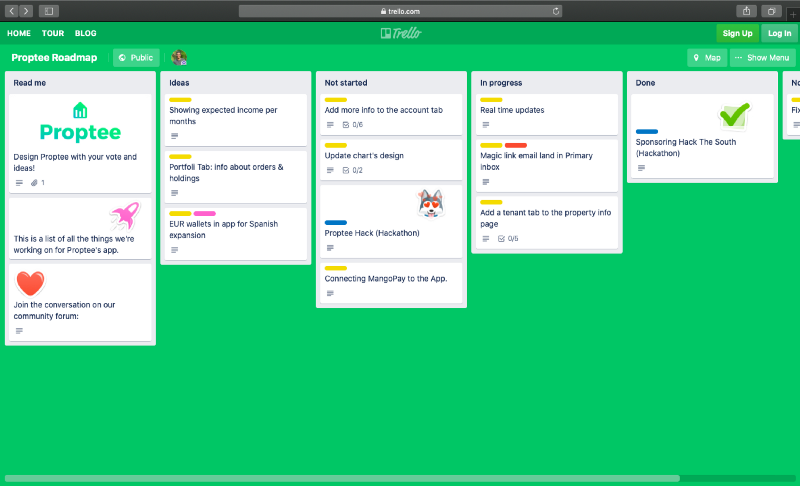 At Proptee, we believe that as a company, we do better if we share everything with our community and gather feedback during every phase of the development process.
We think that no matter what type of business you're in, having set goals and objectives written down massively increases your chances of success.
Following our own intuition and getting inspired by companies like Trello or Monzo, we have decided to put together an overview of our product roadmap on a public Trello board.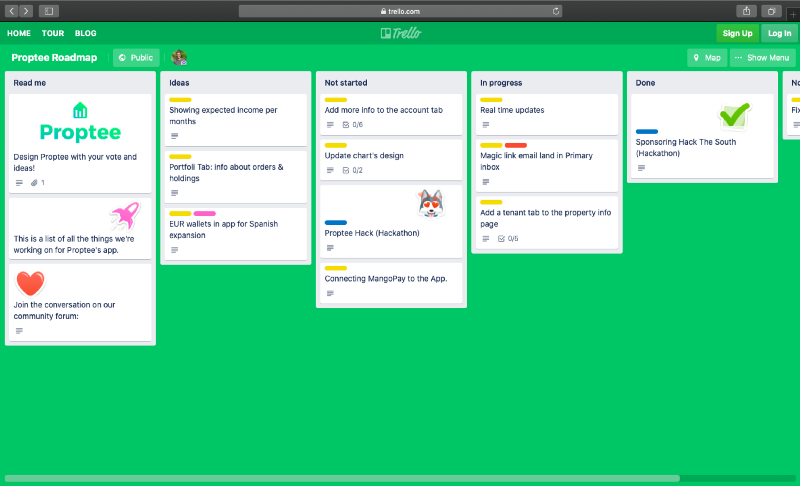 Please take a look and let us know what you think on the forum. We encourage you to vote on features in Trello as the vote counts will be taken into account when deciding what to build next.
We'll do our best to keep the Trello board updated and notify you about any new killer features that are coming up. We'll share the important new cards on our Twitter, so please don't forget to follow us there.
Isn't it risky?
Companies tend to be worried about sharing this much information because the competition might benefit from it. Also, if you share too much, people can get disappointed when features are late or changed.
All in all, it's a challenge to push against natural tendencies to keep quiet, but we believe the benefits outweigh the potential backfires.
What's coming up?
Next week, we'll launch our first iOS app in alpha testing to give our waiting list subscribers an early look at what we're building. We'll ask 10–20 people to help us test the app and share their valuable feedback on our community forum.
We'd love to hear your thoughts on our public product roadmap and more specifically, what else you would like us to share publicly. Send us a tweet or email us at [email protected]. We read every tweet and email.